What is an Important Bird Area?

The Important Bird Area (IBA) program is an international effort to identify, conserve and monitor marine, freshwater and terrestrial sites that provide essential habitat for bird populations. The program began in the 1980's and today over 100 countries are participants. In Canada 597 IBAs have been identified so far, including over 80 in British Columbia. All IBAs provide key habitat for nesting, wintering and migrating birds and the Active Pass IBA is no exception.


How is an IBA chosen?

IBA's are chosen using criteria related to at-risk status of a species, restricted breeding range, sites of general conservation interest, and/or significant bird concentrations during breeding, wintering or migrating. The majority of the IBAs in Canada fall under this latter category, reflecting the fact that a large percentage of our birds migrate beyond our borders.


How is the
Active Pass IBA
Important?
Active Pass was designated an IBA because it supports significant numbers of two species of waterbirds over winter (Pacific Loon and Brandt's Cormorant) and supports populations of a third species during fall and spring migration (Bonaparte's Gull).


As well, up to ten pairs of Bald Eagles nest along the shores of the IBA, and upwards of 100 eagles occasionally forage here in the winter months. In all, there are about 40 species of marine and marine associated birds that regularly use Active Pass at some time in their annual life cycle.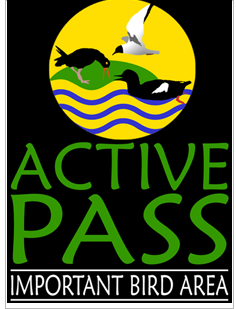 The rich tidal waters of Active Pass not only support a great diversity of bird species but also provide key habitat for marine mammals and both migratory and resident fish species. For thousands of years, indigenous peoples have used these waters for shellfish gathering, reef fishing and waterfowl netting. Today the IBA provides recreational opportunities such as fishing, beachcombing, scuba diving, kayaking and nature watching.
Community Stewardship of the Active Pass IBA
The Mayne Island Conservancy Society and the Galiano Conservancy Association are joint caretakers of the Active Pass IBA. Sponsored by BC Nature, the caretakers provide community stewardship opportunities, undertake monitoring and reporting on the health of the IBA, provide public education and with other IBA caretakers, advocate conservation of the IBA sites.

The 2010 Active Pass IBA report can be downloaded
here
.


For further information about the Active Pass Important Bird Area contact:
Mayne Island Conservancy Society

Box 31, Mayne Island, BC V0N 2J0
250-539-5745

Galiano Conservancy Association

RR#1 Sturdies Bay Road
Galiano Island, BC V0N 1P0
250-539-2424


For further information about the Important Bird Area Program in Canada, go to:
www.ibacanada.ca
Welcome to the
Active Pass Important Bird Area
Gulf Islands, British Columbia, Canada

About the logo
The logo represents the key types of species supported by Active Pass. The Bonaparte's Gull represents the international significance of this marine IBA as well as those species that feed from the air. The Pigeon Guillemot represents the diving species and is a year-round resident and breeder here. The Black Oystercatcher is a shorebird and our most striking intertidal forager, as well as being a local breeder.


Funding and logistical support gratefully acknowledged from:
Vancity EnviroFund

Mayne Island Conservancy Society

Galiano Conservancy Association

Mayne Island Parks and Recreation Commission

Galiano Island Parks and Recreation Commission

BC Nature